Chief's Office

Chief of Police
Colonel Oscar L. Perez
(401) 243-6401
Oscar Perez is the Chief of the Providence Police Department. Chief Perez was born in Medellin, Colombia and moved with his family to the United States at the age of thirteen.
In 1994, Chief Perez was appointed to the Providence Police Department as a Patrol officer. Over the past 29 years, Chief Perez has served in the Patrol Division, The Detective Division as a Youth Service Detective, The Administrative Division, The Intelligence/Special Services Division, The Gang Intervention Unit, the Neighborhood Response Team, the Community Police Bureau, The Training Academy, The office of Professional Responsibility and the Narcotics and Organized Crime Bureau.
Chief Perez grew up in South Providence and attended Roger Williams Middle School and Graduated from Central High School in the City of Providence. He obtained a bachelor's degree in Administration of Justice from Roger Williams University and a Master's degree in Criminal Justice from Boston University.
Chief Perez has earned the respect of the department and the community and has been the recipient of many awards and commendations. Most notably, Chief Perez assisted the FBI in a narcotic's undercover operation where US currency to purchase 35 kilograms of cocaine was seized and three major drug dealers were arrested. He was also recognized for assisting the Johnston Police Department in the apprehension of a subject who was involved in shooting one of their police officers. During his career Chief Perez has received the Mayor's Award, The Chief's Award, The outside agency award, The Citizens Award, The Unit Citation, The Fraternal Order of Police Award, The FBI award, The Servant Leader award from Leadership Rhode Island and many other merit and Citation Awards for exceptional devotion to duty.
Chief Perez is a 2015 graduate of Leadership Rhode Island Lambda II Class, a 2016 graduate of PERF's senior management Institute class, a 2019 graduate of the Harvard Kennedy School Program for Senior Executives in State and Local Government and a Graduate of the 2022 FBI National Academy Session 281.
Chief Perez currently serves on the RI Commission for Prejudice and Bias, The Rhode Island Justice Assistance, the RI College Inclusive Excellence Commission, The Board for the Nonviolence Institute (NVI) and also served on The RI State Parole Board for 6 years.
Chief Perez has been an Adjunct professor in the Administration of Justice Department at both Roger Williams University and Salve Regina University.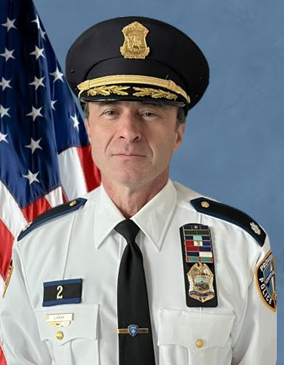 Deputy Chief of Police
Commander Kevin M. Lanni
(401) 243-6401